Storing furniture isn't quite as easy as dropping it off at your storage unit and walking away. There are a few steps you should take to make sure your furniture is in good condition when you need it again.
Keep your furniture looking good during short- or long-term storage with these handy tips. You can thank us later.
Getting Furniture Squeaky Clean
There's nothing quite like a coating of dust to ruin your favourite sofa. Oh wait, there is – bacteria and mould. This is the future you could be facing if you don't clean your furniture before placing it into storage. With so many cleaning products out there, no matter the material of your pieces, you're sure to find the best way to get it clean and fresh before loading it into your trailer.
How to Clean Fabric Couches and Mattresses
Dirt, dust and fluff hate coriander. Oh wait, that's us. Dirt, dust and fluff hate vacuuming. Get your upholstery looking its best with a thorough vacuum and say goodbye to pesky particles cramping your style. If you really want to impress the cleaning Gods, get stuck in with these cleaning hacks:
Add baking powder to upholstered surfaces before you vacuum. This helps remove odours and makes you feel like a pastry chef, if only for a little while.
Dissolve dishwashing soap, white vinegar, baking soda and warm water in a spray bottle. Spray onto any spots or marks and dab away with a cloth.
Vodka is good for more than just a rocking Friday night – it's also great for cleaning and disinfecting your mattress.
A deeper clean on those stubborn stains (hello, red wine) calls for a steam clean with a water-based detergent.
How to Clean Dining Tables and Chairs, Bookcases and Wooden Items
Timber furniture is au naturel, making it a little more precious than some of your other pieces. Give it the love it needs and you'll enjoy a long-lasting relationship.
Wipe down with a very faintly damp cloth. If you go in with too much water, your timber pieces can swell out of shape. Much like us after Christmas, are we right?
Combining vinegar and water to remove grime is safe for painted and non-painted wooden pieces.
Reach into cracks and joints (on your furniture) with a toothbrush.
Spray on some wax polish for that fresh timber feel.
Transporting Furniture to Your Storage Unit
Whether you opt for a truck, a trailer or a magic carpet to transport your furniture, getting your stuff to your unit takes some special effort. A good way to start is to disassemble the big items like your bed and your dining table. Here's how:
Be equipped with the right tools, like screwdrivers and a beer.
Focus on the joining points – this is likely where items are connected.
Attach any screws and other bits and pieces to their piece for when you need to put them back together.
By taking the big pieces apart, you'll be able to fit more into your vehicle, minimising the number of trips you'll need to take.
Storing Your Furniture Properly
Putting your furniture in your storage unit should not resemble a real-life game of Tetris. You'll need to store your items safely and efficiently to make the most of your storage unit.
Cover and Protect
No, we're not talking about sun-safety.
Lay a sheet down on concrete floors to protect your furniture from the hard surface.
Keep dust at bay by covering your furniture in sheets or blankets.
We know what you're thinking: But what about plastic covers? Sure, these are great for keeping furniture protected on the drive over. But during storage, plastic sheets can cause condensation, leading to mould accumulation. No, thank you. Take a look at our covers that we offer for both beds and couches here.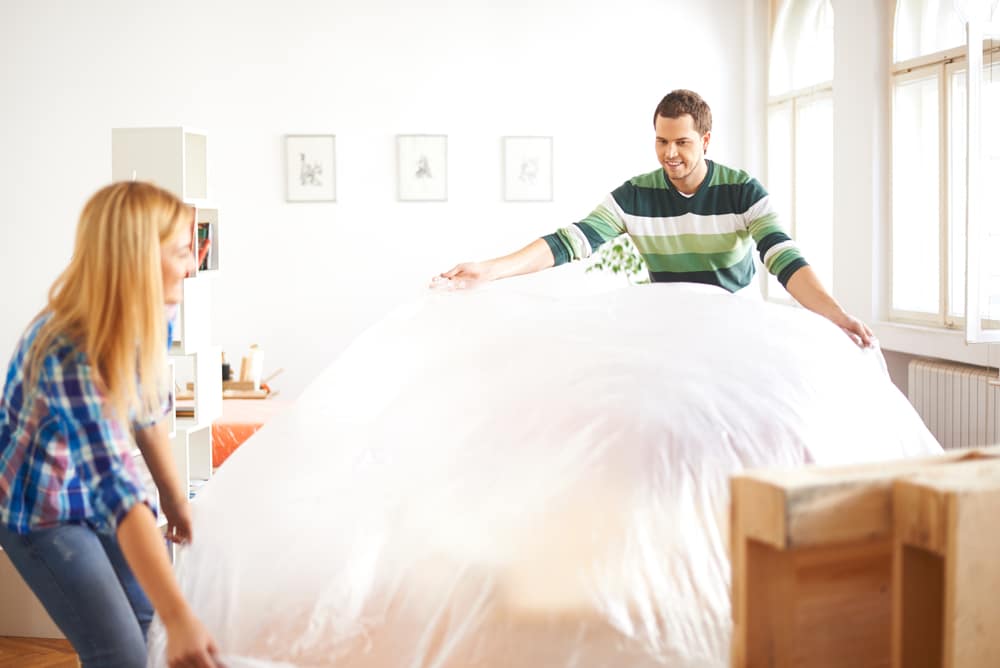 Know How Long Things Can Be Stored
Does your furniture need a temporary home while you move house? Or are you locking it up while you travel the world for the next couple of years? The timeframe that you plan to have your items in storage is important to keep in mind as some furniture requires regular rotating or cleaning. For example:
Mattresses that are standing on their side while in storage should be rotated every couple of weeks or so to keep the coils and cushioning in place. It's best to lay your mattress flat to keep its shape.
All furniture is prone to collecting dust. A monthly wipe-down should be enough to keep it from becoming a real issue.
Store heavier items at the back of your unit with lighter items on top. Resting heavy items on cushioned furniture can change its shape.
Stock Up on Useful Products
If you really want to keep your furniture in top condition, you should be prepared with the right gear for the job. This includes:
Plastic covers – These come in handy when transporting furniture from your home to your unit.
Corrugated cardboard – Place between stacked dining chairs for protection.
Moving blankets – Great for your dining table top. Get one here.
Hacks for Storing Furniture
Not to toot our own horn, but we're kinda the experts when it comes to storing furniture (toot, toot).
Separate your mattress and bed frame to increase unit space and ventilation.
Take your dining table apart to make the most of your space and avoid damage.
Store drawers inside your dresser to keep dust out.
Make the Most of Your Unit Space
By the time you've cleaned your furniture and lugged it to your storage unit, you may feel like throwing in the towel and jamming your stuff inside your unit as quickly as possible. But hold it right there, silly. Taking some care will help maximise your unit space and make it easier when you retrieve your furniture in future.
Put all the big, heavy pieces toward the back so you can stack smaller, lighter items on top.
Place long items such as couches along the sides of your unit.
Keep some space free so you can move around your unit and grab stuff when you need it.
Don't have plastic covers and moving blankets lying around? Look at our Box Shop online, or grab all the moving supplies you need at your nearest National Storage.
If you're needing extra space, consider a self-storage unit with National Storage.