Take a trip down National Storage memory lane as we celebrate the opening of our 200th centre across Australia and New Zealand.
Reaching this significant milestone has given us an opportunity to reflect on our 25+ year history, a winding road filled with fond memories and exciting professional achievements.
From humble beginnings at our first site in Oxley here in Brisbane, to our 200th centre in Biggera Waters on the Gold Coast, familiarise yourself with the growth of our business.
Follow our unique journey through our interactive timeline, reminisce via our historical photo library, read testimonials from our longstanding staff, customers and partners, and scroll through our media gallery to reflect on pivotal media moments.
Thank you for playing a part in our story to date – here's to 200 more!
8 May, 1995
Construction began on our first storage centre in Oxley, QLD
14 June, 1997
Stowaway Self-Storage was founded with the official opening of our Oxley centre
1 June, 1997
Second facility opened in Aspley, QLD
2000
Formed joint venture with the Bryan Family Group and moved into Felix Street office, Brisbane CBD
13 December, 2000
National Storage was founded following the merger of Stowaway Self-Storage, National Mini Storage and Premier Self-Storage resulting in the integration of a further 14 centres including three in Adelaide, SA
February, 2003
Acquired the first centre in Sydney, NSW
14 November, 2003
The APN National Storage Property Trust was established and the first seven centres in Melbourne, VIC were acquired
30 June, 2005
Acquired the the first two centres in Perth, WA from Parsons Group
31 May, 2007
Opened our 50th centre in Gladesville, NSW
5 November, 2007
National Storage acquired Wine Ark, including two new centres in Sydney
31 July, 2008
Acquired the first three centres in Hobart, TAS
4 January, 2010
Opened our fully operational Contact Centre in Brisbane, QLD
19 December 2013
National Storage listed on the Australian Stock Exchange (ASX) forming National Storage REIT (NSR) as the first publicly listed independent, internally managed and fully integrated owner and operator of self-storage centres in Australia
13 October, 2014
Entered the ACT market with the acquisition of the Capital Self Storage portfolio of four centres in Canberra
6 August, 2015
National Storage entered the New Zealand market with the acquisition of the Safestore Storage Portfolio of five centres in Christchurch
13 April, 2016
Acquired our first centre in the Darwin, NT
31 May, 2016
Acquired our 100th centre in Wellington, NZ
August, 2016
Acquired balance ownership interest of the Southern Cross Storage portfolio of 25 centres
March, 2017
Acquired Roslyn Storage portfolio in Dunedin, NZ
May, 2018
Acquired Abacus Storage King Townsville portfolio of five centres
24 April, 2019
Opened our 150th centre in Bundall, QLD
7 May, 2019
Acquired the Guardian Self Storage portfolio of seven centres in New Zealand and Wollongong Mini Storage of three centres in Wollongong, NSW
27 June, 2020
Launched Bluetooth Smart Access at National Storage Robina, QLD to become the first fully automated storage centre in Australia
5 August, 2020
National Storage wins Canstar Blue Awards for Australia's Most Satisfied Customers
27 November, 2020
National Storage wins Canstar Blue Awards for New Zealand's Most Satisfied Customers
18 December, 2020
Acquired the Fry's Storage portfolio to add nine new centres to our Victorian network
11 January, 2021
Opened our 200th centre at Biggera Waters, Gold Coast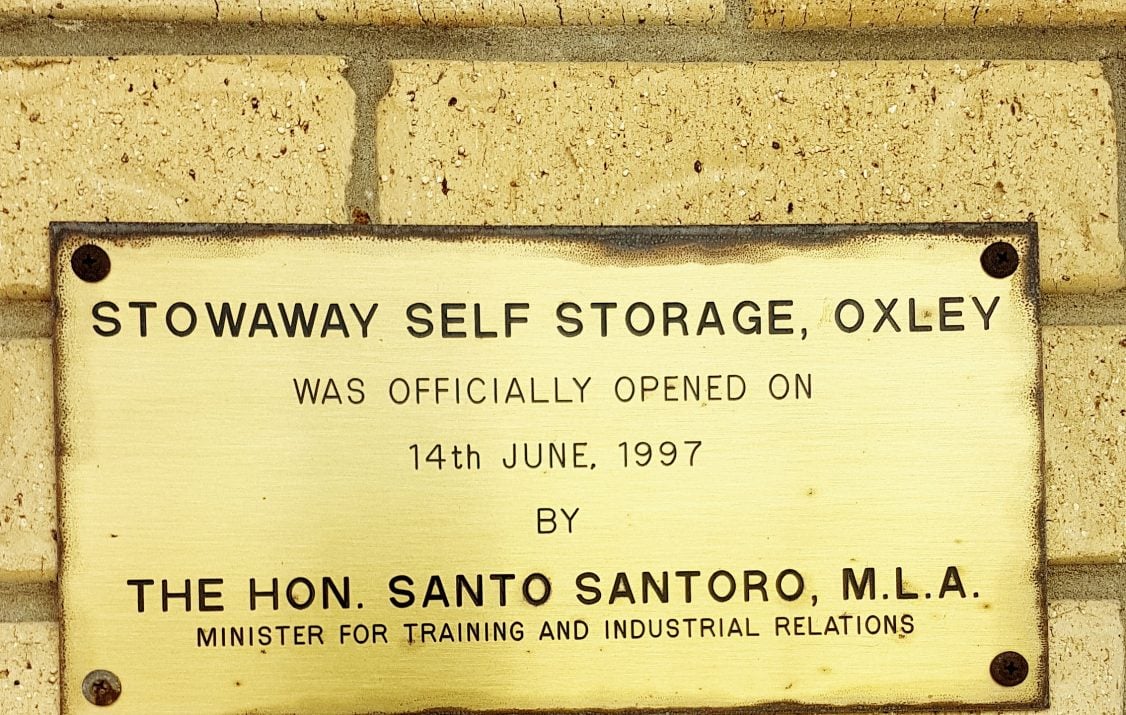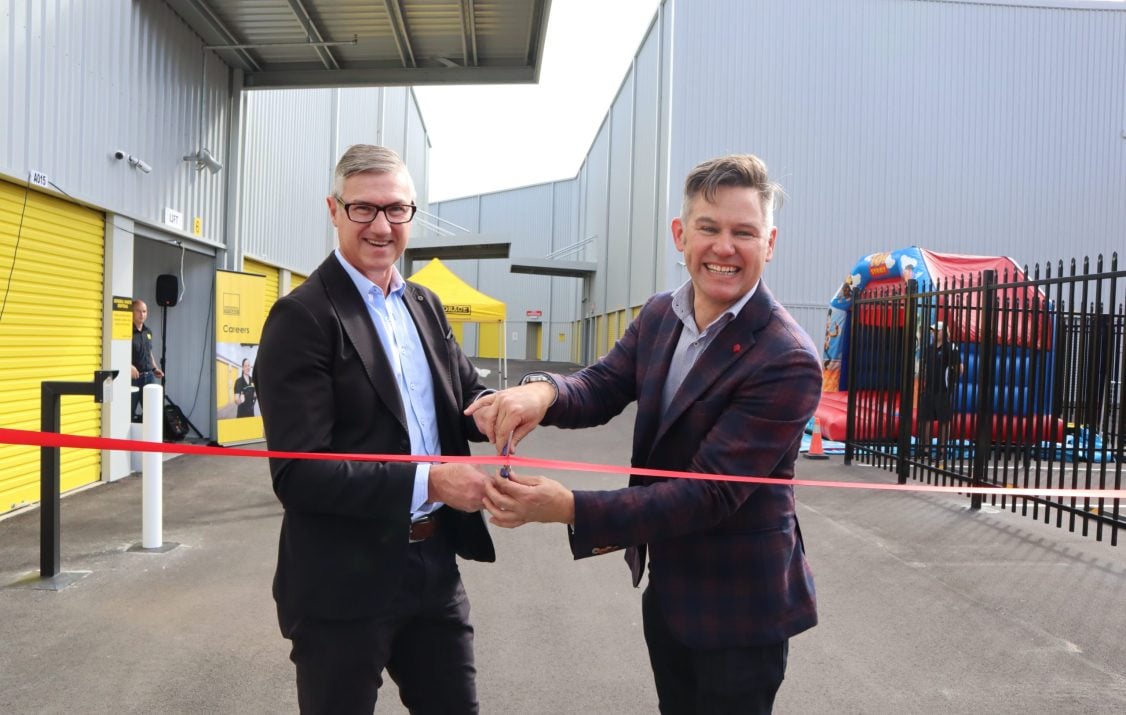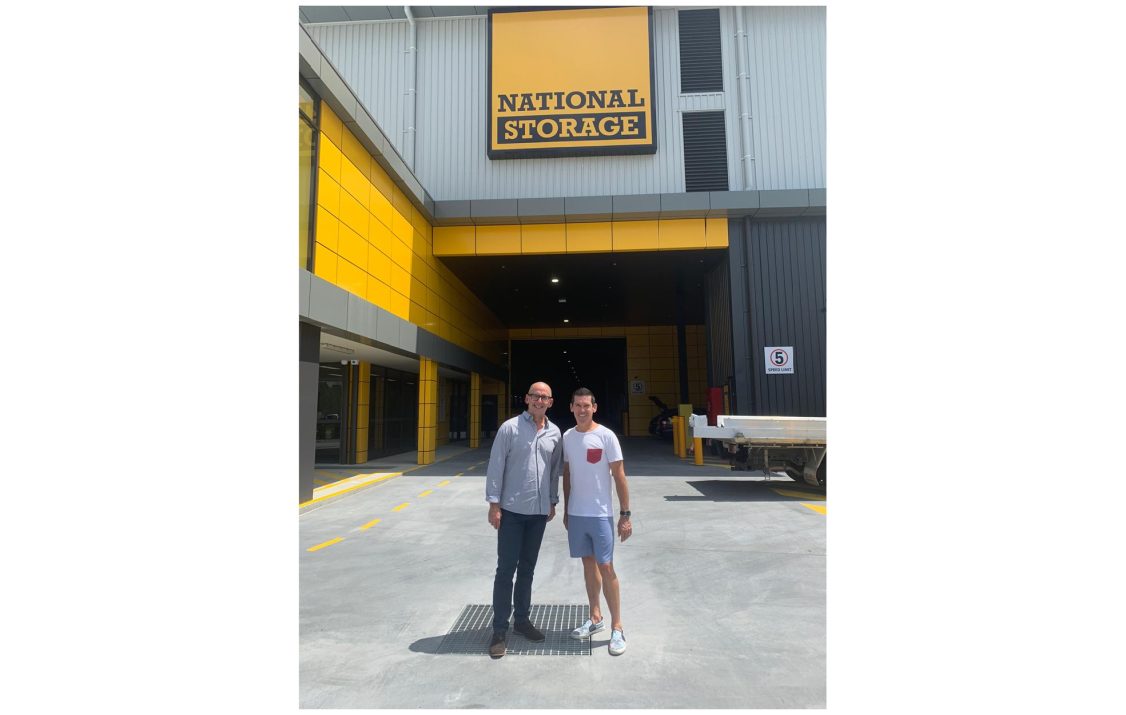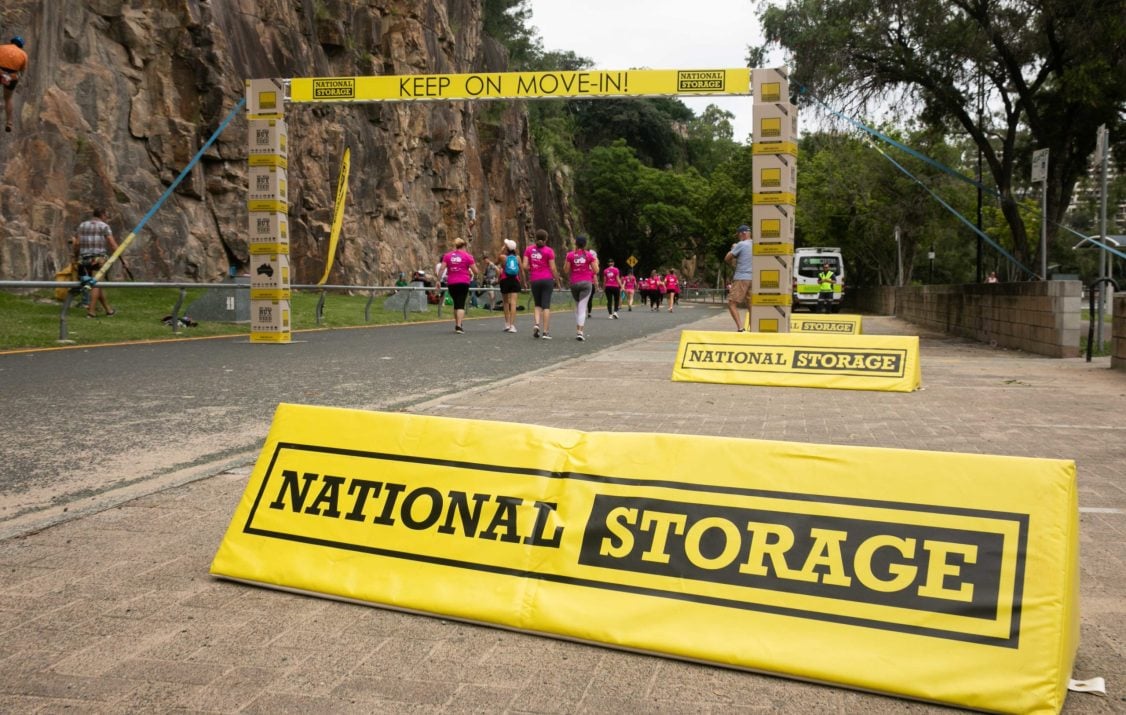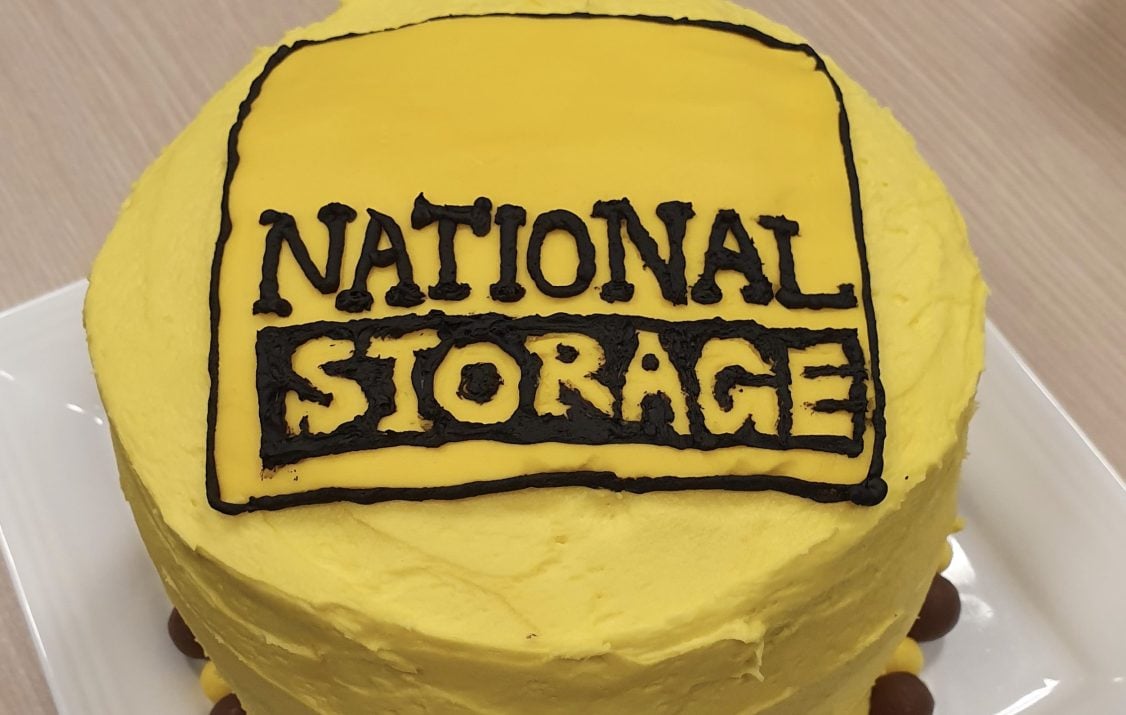 "Congratulations on achieving this incredible milestone. It has been an absolute delight to watch the growth of the business since listing back in 2013. Well done to Andrew and the team – I know there is a lot more to come!" – Rob Stanton, Investor
"Any company can be a good employer when things are going well. It's when the chips are down that National Storage really come to the forefront to look after their 'family.' I'm most grateful for the opportunities provided by National Storage and the fact that you get back what you put in. Even in those early days they were focusing on developing their people and improving and innovating their processes. I'm extremely proud to have been involved with this growth." – Anthony Jamison, National Storage Corporate Accounts Manager
"Congratulations National Storage. I have been a customer at National Storage Kenepuru for at least five years. This storage facility is always immaculately tidy and clean, and the service helpful and responsive. I always feel confident my units are secure and my property is safe. Have a great celebration National Storage." – Paula Crombie, National Storage Kenepuru Customer
"We are really proud of our association with National Storage, from the first discussion that we had six years ago to where we sit today. We've had many special moments together. We congratulate National Storage on the growth of their business and we thank them for their commitment to the Broncos over our time together." – Paul White, Brisbane Broncos CEO
"For more than twenty years, we've partnered with National Storage to power the software that underpins their operations. The drive and dedication that powered their team in the early days is as evident today as they reach beyond 200 centres. The R6 Group is proud to support National Storage during this exciting phase of growth and expansion. The National Storage journey has been full of industry-firsts and this significant milestone is no exception. The National Storage story has been transformational for our industry, and we're excited to be a part of that continued transformation." – Curt Dogger, Head of Customer Experience R6 Digital
"It is great to see National Storage deliver for its Investors as it grows its portfolio from 62 assets at its IPO in 2013 to 200 properties today. As the only listed REIT in Australia to focus on the Self-Storage sector, National Storage is uniquely placed to continue the consolidation of the sector, deliver outstanding service to its customers and provide a strong diversified cashflow for its investors. Congratulations to Andrew and the team." – Paul Snushall, Investment Banker & Advisor to the IPO of National Storage in 2013
"It only feels like yesterday I was showing Andrew, Peter and Mike around Wine Ark Alexandria prior to its acquisition – not 13 years ago! Being part of the greater National Storage team on this journey has been an absolute pleasure. 200 centres – wow! It has been a great ride so far and here's hoping the next 200 will be as fulfilling!" – John Cuff, Head Keeper of the Bottles – Wine Ark 
"From the entire team at Mater, congratulations National Storage on opening your 200th centre. Thank you so much for your long held sponsorship of the RACQ International Women's Day Fun Run. Your generosity is so valued, providing counselling, care and treatment for women with breast cancer now and into the future. We think you're pretty amazing. Congratulations again, it's a wonderful milestone. Thank you National Storage." – Mater Foundation
National Storage in the Media
"It's been a great effort to grow the business through both buying new centres and building new centres, and also expanding our footprint. We are now represented in every state and territory in Australia and of course we have a significant footprint in New Zealand as well so I think that's a great achievement to be able to manage that and to continue that growth consistently over every year since listing." – Anthony Keane, National Storage Board Director
"My experience with National Storage has always been first class. All the staff over the many years of me dealing with them have always been happy and helpful. I have never had a problem concerning anything at all. The central location and easy access makes it even better. Keep up the good work." – Stephen Lee, National Storage Nerang Customer
"Hitting 200 centres is a great milestone for the business with the journey just beginning. I have the great pleasure and opportunity to be working for a very high performing business and management team. I feel very privileged to be part of a company whose brand is held in high regard in the business world and the values it upholds." – George Takis, General Manager Sales 
"The significant 200 centre milestone represents the consistent execution and a resounding validation of our 'four pillars' strategy, and the successful upscaling of our operating platform and the seamless integration of new assets into that platform, deriving meaningful synergies along the way. It reflects innovation, continuous improvement across all operating areas, and the collective effort and singular focus of the entire National Storage team around Australia and New Zealand. It also represents the world of possibility for the future as we set our sights on sustainably achieving the next milestone of growth." – Laurence Brindle, Chairman of the National Storage Board
"From my standpoint, the intervening 21 years since the acquisition of National Mini Storage and the start of National Storage, has been the perfect mix of enduring friendship and business success. What more could a fella ask for? Well done Andrew and Crew." – Robert Bryan, Investor
"It's immensely satisfying being part of the progress NS has made. I've seen the hard work and the changes we've undertaken to get to this stage. I'm honoured to be a part of the journey. Who knew a business of empty boxes could be full of so many good people, ideas and imagination?" – Chloe French, National Storage Senior Manager – New Zealand 
"I guess the main reason I am still here is I love what I do. I love the interaction with customers and local businesses, I love being able to put a smile on faces and feel like I have made a difference to most people I come into contact with, both professionally and personally. I enjoy the company of my fellow work mates and still look forward to going to work each day." – Lee Barrett, National Storage employee for 21 years & the first female Regional Manager (Tweed Heads/Chinderah Bay)
"The Bryan Family Group values its long standing relationship with National Storage and congratulates it, and particularly founding Managing Director, Andrew Catsoulis, on reaching the significant milestone of its 200th storage centre." – Geoff McMahon, Investor