Home to the famous Hobbiton Movie Set from The Lord of the Rings films, Hamilton has more than just a trip to The Shire on offer.
The country's fourth most-populous city, Hamilton boasts almost 170,000 locals.
This scenic city sits almost in the centre of the North Island, about an hour and a half's drive south from Auckland – the largest city in the country.
Whether you're a LOTR fan or not, there are plenty of reasons why life in Hamilton is great – but it's worth considering the pros and cons before moving to Hamilton NZ.
Living in Hamilton: Pros and Cons
Beyond the pretty river views and the glorious Hamilton Gardens, this good-looking city is loved for many other factors. But that doesn't mean Hamilton doesn't have its share of not-so-great traits, too.
Pro: Traffic is pretty good
Despite its high population, Hamilton is known by locals for having pretty good traffic. There's not much of it, and peak-hour isn't half as busy as that of larger cities like Auckland and Wellington.
Con: It can be cold and wet for a little longer than desired
Like most of New Zealand, Hamilton's weather isn't exactly celebrated. The winters are long and generally wet, so don't expect much sunshine throughout the year.
Pro: It has a great dining scene
Foodies will be pleased to know their Friday-night tapas and Sunday brunches are accommodated. Hamilton is home to heaps of trendy bars, restaurants, and cafés to quench your thirst and satisfy your cravings.
Con: There are a lot of homeless people
A Yale study shows New Zealand has some of the highest rates of homelessness in the developed world – and Hamilton is known for having homeless people in the inner city and suburbs at night.
Pro: There's plenty to do
The Hamilton Gardens are the largest gardens in the country, and a must-see for locals and visitors of all ages. The city is also home to a zoo, museums, art galleries, and plenty of daytrips for the outdoorsy types. Ngarunui Beach is just a 50-minute drive from the CBD, and the Waitomo Caves are just an hour's drive south from the city.
Best Hamilton Suburbs to Live In
If a move to Hamilton is on the cards but you're not sure exactly where to plant your roots, these suburbs in Hamilton might appeal to you.
Hamilton Central
Smack-bang in the middle of the action, Hamilton Central is perfect if you work in the CBD (or just like to be near the best bars and restaurants in town). Because Hamilton is a smaller city, everything is pretty close by – from parks and schools to shops and the city zoo. So whatever your lifestyle, Hamilton Central is a great suburb to base yourself. Consider storing your goods while making the move at our Frankton South self-storage centre which is just a few kilometres away. Our friendly team can provide you with a free quote when you're ready.
Hamilton East
Quiet and leafy, Hamilton East is one of the oldest neighbourhoods in the city. Here you can enjoy parks, gardens, and classic historic homesteads. The suburb plays host to markets on the first and third Sundays of the month, and is home to several schools and a retirement village.
Pukete
Tree-lined and family-friendly Pukete is ideal for young families who like to get out and about. It offers two primary schools schools, a mountain biking park, and a pedestrian bridge that runs through the Waikato River connecting to surrounding suburbs.
Our beautiful looking reception at our Pukete self-storage centre is a testament to our storage experience we can provide, offering secure, cost-effective storage solutions. Take a look here for how we can cater you on your new transition.
Hamilton's Dining Scene
If you're looking for a bite to eat in Hamilton, you're sure to find what you're craving. With endless options on offer to suit a wide range of budgets and tastebuds, Hamilton sure has stepped up their dining scene in recent years.
Victoria Street – Hamilton Central
This buzzing street is dotted with most of the city's best dining hotspots. From authentic Asian to hearty Irish fare, Victoria Street offers an exotic banquet of cuisines. Take a wander and see what catches your eye – and stomach.
Greenwood Street – Frankton
We get it: Sometimes you just really want that fast-food burger. Greenwood Street gives you your fill of fast-food restaurants like McDonald's, KFC, Burger King, BurgerFuel, Carl's Jr., Wendy's and more. In such close vicinity to each other, it's never been easier to do a burger crawl.
Culture in Hamilton
Believe it or not, this inland city is bursting at the seams with art and culture. If you're an avid theatre-goer or love hunting down the latest local up-and-comers in the art scene, you're sure to get your culture fix in Hamilton.
The Meteor Theatre
The self-proclaimed Hamilton's home of New Zealand theatre, The Meteor is a thriving space of theatre, dance, comedy, music, and more. Catch a show and check out the local talent, or if you're feeling adventurous, get involved in a workshop.
Clarence St Theatre
From live music and dance to comedy and children's theatre, Clarence St Theatre has something to entertain everyone in the family.
Waikato Museum
For a slice of Hamilton's history, Waikato Museum provides an interesting and engaging visit for all ages. The venue has 13 galleries with over 25 new exhibitions and 100 public events every year. Here you can learn about Waikato WW1 story, get hands-on with the interactive science galleries for kids, and more. Entry is generally free (admission fees apply to some exhibitions and activities) but donations are welcome.
Hamilton's Climate
Hamilton has an oceanic climate that's generally mild and warm. But the city is known to be quite wet with plenty of precipitation throughout the year. Be ready for whatever Hamilton throws at you with these tips.
Summer
Summer in Hamilton is generally warm and dry, with an average daily temperature of 20°C. The city is known to have some of the hottest summers in the country, with temperatures reaching up to 29°C on occasion. February is the hottest month with average daily temperature of 21°C. This is the best time of year to swim at the beach as the water is generally around 20°C.
Autumn
Hamilton's autumn months are mild, with days averaging around 18°C. This is a great time of year to visit the beautiful Hamilton Gardens as the leaves change colour.
Winter
Winter in Hamilton can be unforgiving. As an inland city, Hamilton can experience winter mornings as low as -4°C, despite snowfall being rare. Winters are typically cool and wet with an average daily temperature of 14°C. July is generally the coldest month in Hamilton and also sees the most rainfall.
Spring
You thought the rain might stop when it hit spring, right? Wrong. Spring in Hamilton sees plenty of wet days, with an average daily temperature of 15°C. All this rain invites lush greenery and striking colours in the Hamilton Gardens, making it another perfect time of year to visit.
Getting Around Hamilton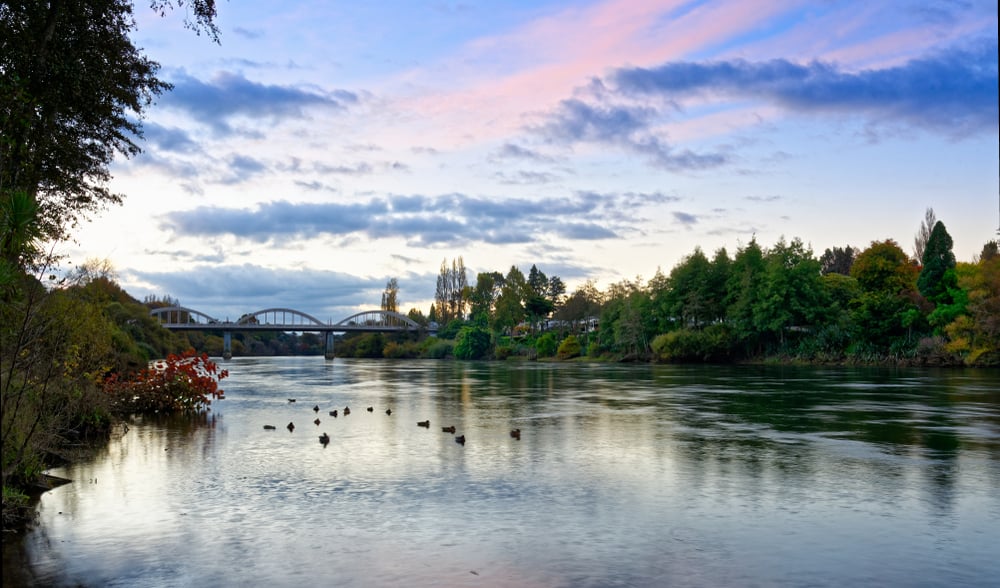 Hamilton isn't exactly known for its thriving public transport. But there are a few options if you'd rather not drive or walk.
Bus
The city has 26 bus routes covering the inner city and most of the outer suburbs. Shuttle buses are available to the Hamilton Airport.
Train
The only remaining passenger train in Hamilton is the Northern Explorer. It offers three services per week between Auckland and Wellington.
Taxi
You'll find designated taxi ranks in popular spots like the airport and shopping centres. Otherwise you can hail one in the street or order one from your phone.
Reduce the risk of a stress-induced moving meltdown with our moving checklist. Otherwise, request a free quote with our experienced team here.