So it's time to tackle the beast and start decluttering your home.
While this chore may never really be fun, and there's no official right way to go about it, there are a few things you can do to make it more efficient and less of a nightmare.
Get it right the first time with this handy guide to decluttering your home, one room at a time. Your home will be neat and tidy and you'll be free to retreat to your couch to catch the new season of whatever on Netflix.
---
How to Declutter Your Bedroom
Struggling to relax in your bedroom due to the build-up of stuff? Reclaim your space and create a sanctuary by culling the excess books, clothes, knickknacks and goodness knows what else (for us, it's chocolate wrappers and the odd wine glass).
Bedside table – This handy piece of furniture should be reserved for the essentials only. This includes your favourite book, phone charger, tissues, water, and a lamp. This does not include a half-empty pizza box. Clear the surface and drawers of anything you don't really need.
Wardrobe, closet, dresser – It's time to get ruthless. Sort your clothing into 3 categories: keep, throw, and donate. Show no mercy. We know you love that Avatar costume from 6 years ago, but you're probably not going to be wearing it anytime soon.
Socks/underwear drawer – We're all guilty of hanging onto ill-fitting and holey socks and underwear. But trust us, those undies you're still hoarding from high school aren't doing you any favours. Toss everything that is worn or no longer fits. If this means your drawer is left looking a little sad, treat yourself to some new socks and underwear.
Under the bed – You might be surprised (and a little disgusted) by the things that accumulate under your bed. Toss anything you don't need anymore, and find a spot for the things you actually do.
Bonus Tip: Make the most of under-bed space with some short and wide sliding drawers.
---
How to Declutter Your Kitchen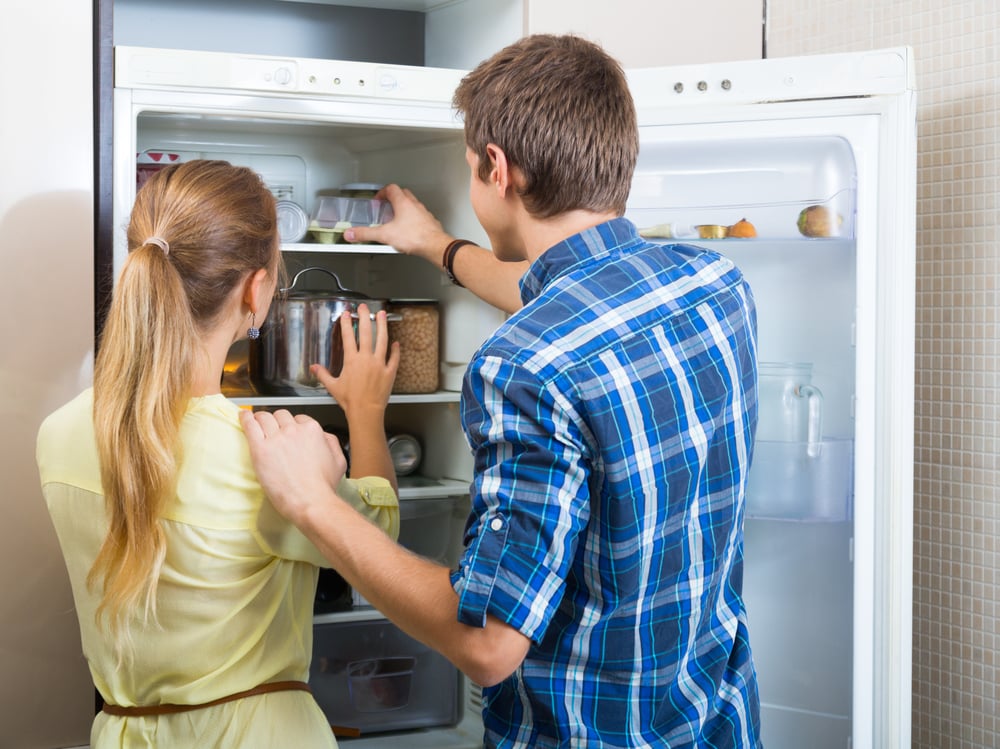 An organised kitchen is a functional kitchen, and a functional kitchen means meals that are 79%* more delicious. Follow these tips to get your kitchen running more smoothly.
*Not true.
Fridge – You know what's yuck? Out-of-date food. Give it the ol' heave-ho for a more organised (and less gross) fridge.
Pantry – Do you really need all those tins of baked beans and spaghetti? If you've got a heap of food you're not going to use (or are just holding onto in case The Walking Dead becomes real life), donate them. Keep your pantry organised by categories, like baking supplies, condiments, and work lunches.
Cupboard beneath the sink – Holding onto a few too many bottles of dishwashing liquid that are almost empty? Ditch any empties to streamline your cleaning supplies.
Drawers – Are your drawers being commandeered by paperwork, old bills, and other random crap? Time to evict anything that doesn't belong to keep your cutlery and cooking utensils easily accessible.
Cabinets – Keep your cabinets organised and functional by culling excess mugs, cups, pans, pots, and dinnerware. Now is the time to face your fear and finally pair up all those Tupperware containers with their correct lids.
Bonus Tip: Desk organisers are great for arranging things in the fridge, maximising space and stopping your cans of beer from fraternising with your punnets of strawberries.
---
How to Declutter Your Living Room
The living room's one of the most frequently used spaces in the home, and it's also where visitors hang out and quietly judge you. Keep it looking its best with a thorough declutter.
Newspapers, magazines, books – While dressing up a coffee table with a stack of magazines may look chic and stylish in the magazines, chances are they're just taking up space in your living room and making it look untidy. Donate anything you're not reading, and find a home for everything else on a bookshelf.
Furniture – Excess furniture can leave your living room looking smaller than it really is. Stick to the essential pieces to avoid cramping the space. That unnecessary, bulky armchair can be thrown out, donated, or placed into storage.
Soft furnishings/accessories – Sure, you can express yourself in your home with accessories and knickknacks, but if they're just collecting dust and cluttering every surface of your living room, it's time to make some cuts.
Bonus Tip: Keep your remotes organised with Velcro strips. Just attach them to the inside of your TV unit and stick the opposite strips on the backs of your remotes.
---
How to Declutter Your Bathroom
Primping and priming ourselves can be tough in a messy bathroom. How are we supposed to look our best when we can't find the hairdryer under all the mostly used soap bars and half-empty shampoo bottles?
Shower – Keep your toiletries to the bare minimum and throw out any empties to keep your shower tidy and organised.
Vanity – Lotions and potions and perfumes, oh my! You'd be amazed at the difference a tidy bathroom sink can make. Stick to the essentials and make use of your drawers with the other stuff.
Cupboards/drawers – Get stuck in and bin any out-of-date medicines and stuff you don't use.
Bonus Tip: Use drawer dividers to keep your things organised. These are perfect for separating your toiletries and medicines, so you don't wind up brushing your teeth with antiseptic cream.
---
How to Declutter Your Home Office
Working from home will be an uphill battle if you're fighting clutter for desk space every day.
Furniture – If you don't need it, lose it. Once you've got the basics (desk, chair, bookcase, etc.) there's no need to go overboard with other pieces just to fill the space. Not only will this keep your home office looking tidy; it'll also give you more space to zoom around the room on your swivel chair.
Desk – Keep the accessories to a minimum. While it may be fun to add some character to your desk with fun figurines or quirky pen holders, too much stuff can be distracting when you want to get down to business.
Drawers – If your desk drawers are filled with crumpled papers and dry pens, it's time to clear out the rubbish to make your office more functional.
Bonus Tip: Label your cords with bread tags to avoid unplugging the wrong machine. This is an affordable way to keep your electronics organised. Or, see if personal business storage could be a better solution for you right here.
---
How to Declutter Your Garage
Because it'd be pretty handy to actually be able to fit your car in your garage.
Grab the bin – Your garage is probably harbouring some junk. We're not judging; we're guilty of leaving the odd empty paint tin lying around. Grab yourself a bin or trailer and get culling.
Only keep the things you need – Stop holding onto stuff you don't need or use. Donate them or sell them at a garage sale or online (weigh up which option might suit you better in this helpful article).
Get organised – Now your garage is home to only the things you need, keep things organised and in their right place with some storage options. Shelving is a great solution for making a home for bits and pieces.
Bonus Tip: If culling the crap from your garage still hasn't made enough room for your vehicle, there's still hope. Our self-storage units are the perfect solution for getting your excess items out of the way without saying goodbye to anything important.
Before you go loading up your trailer and heading to your nearest storage centre, find out what you can't put into a storage unit to be safe. Ensure your goods while decluttered are in a clean space as well – see our Box Shop for a range of packaging and boxes.