Affordable, portable and versatile… it's no wonder so many businesses are choosing to operate out of storage containers.
From retail stores to hotels, business owners all over the world are getting creative and setting up shop inside shipping containers. These are our 6 favourite examples from around the globe.
1. Downtown Container Park Shopping Centre – Las Vegas, USA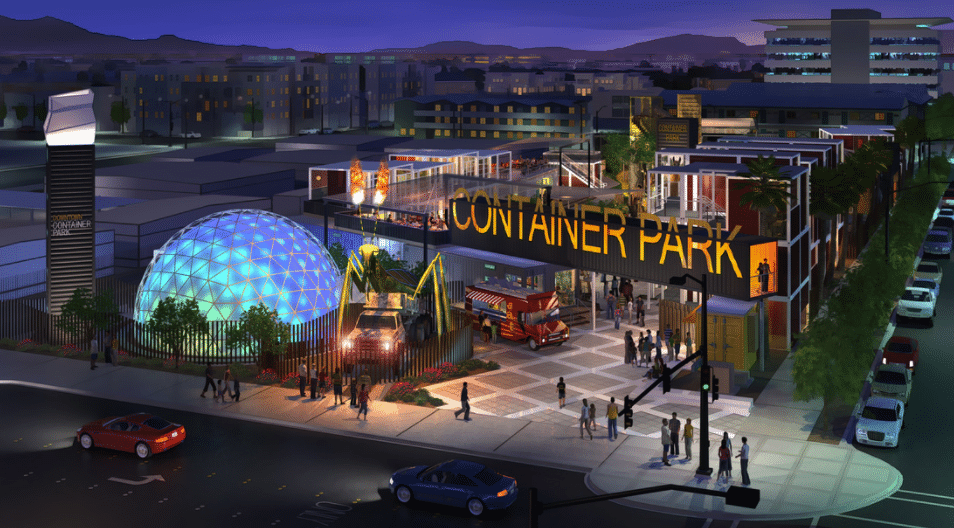 Located in the heart of Las Vegas, the Downtown Container Park is home to retail shops, restaurants, entertainment (including an interactive playground), and even a wedding chapel. Made from shipping containers, this unique open-air shopping centre was designed with a strong focus on entrepreneurship and supporting small businesses.
So next time you're in Sin City and you're in the mood for a spot of shopping, a bite to eat, or a no-frills wedding ceremony, give this cool container park a look.
2. Home-Based Architect Business – Buddina, Australia
Managing Director of a local architectural company, John Robertson, jumped on board the storage container trend and used his expertise to transform three containers into a home-based architect business.
While neighbours were sceptical at first, the completed design went on to win the major prize at the Sunshine Coast Regional Architecture Awards in 2014.
3. Furniture Store – São Paulo, Brazil
Funky furniture store, Decameron Design, is hard to miss. The store showcases its furniture in fluorescent shipping containers, a great low-cost solution.
They've stacked the shipping containers 2 storeys high to maximise space and create an intimate space to display their designs.
4. Xiang Xiang Pray House Container Hotel – Changzhi, China
Think shipping containers are just for businesses on a budget, or hip cafés wanting industrial vibes? Think again. The Xiang Xiang Pray House proves the versatility of storage containers with its luxe aesthetic.
Made from 35 shipping containers, each room has a skylight, Wi-Fi, water, electricity, and air conditioning. Despite its unassuming exterior, the Xiang Xiang Pray House is undeniably elegant inside.
5. Cité a Docks Student Housing – Le Havre, France
Old shipping containers are given a new purpose in this student housing project. The Cité A Docks provides 100 apartments over 4 floors, each featuring glass walls to allow natural lighting. They also have views to an indoor garden.
The apartments are 24 square metres each and designed to ensure maximum heat and sound insulation.
6. Puma City Shipping Container Store – Transportable
Athletic footwear and apparel giant, Puma, wasn't about to be left behind when the shipping container bandwagon made its way past. These guys decided to go all out with Puma City. This exciting project combines 24 containers to create a 3-storey store with over 11,000 square feet, including a bar/lounge area and two decks.
Because we couldn't possibly buy new kicks without sipping a cocktail first, right?
Feeling inspired yet? Check out these 4 ways a shipping container could benefit your business. Maybe the shipping container vibe isn't your thing. If not, a self-storage unit could fit your business or personal needs better.